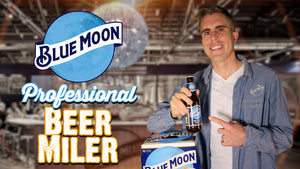 Blue Moon Signs Chris Robertson as Pro Beer Miler
Chris Robertson may never become a professional runner, but add in chugging a few beers and he's one of the best in the world.
Blue Moon Brewing Company recognizes the growth in popularity of the underground sport, the beer mile, and signed Chris Robertson to a multi-year deal that allows him to train as a professional beer miler. 
Chris Robertson has been an advocate for Blue Moon as his beer of choice for the beer mile for several years. He was the first one to compete with Blue Moon on the world stages at the Beer Mile World Classic, and it has led him to two world titles and the second fastest time in the world all-time. 
Chris Robertson's Beer Mile Resume
American Chris Robertson currently stands at #2 in the world with a 4:37 beer mile and is the American record holder. He won the 2017 Beer Mile World Classic, was runner-up at the 2019 Beer Mile World Classic in Berlin, and won the individual world title again in the virtual 2020 Beer Mile World Classic. He also set the Beer 2-Mile World Record in September 2020 by over a minute with a time of 10:18. 
Watch the Blue Moon Sponsorship Announcement
Watch the 4:37 Beer Mile American Record
Race Splits
| | | | |
| --- | --- | --- | --- |
|   | Beer (sec.) | Lap | Total Elapsed Time |
| 1 | 5 | 1:01 | 1:06 |
| 2 | 5 | 1:04 | 2:15 (1:09) |
| 3 | 6 | 1:05 | 3:26 (1:11) |
| 4 | 7 | 1:04 | 4:37 (1:11) |
Watch the Beer 2-Mile World Record
Beer 2-Mile World Record Splits
Beer Mile #1 split - 5:09
Beer Mile #2 split - 5:09
| | | |
| --- | --- | --- |
| # | Beer Split | Lap Split |
| 1 | 5 | 1:12 |
| 2  | 6 | 1:11 |
| 3 | 6 | 1:10 |
| 4 | 8 | 1:11 |
| 5 | 6 | 1:10 |
| 6 | 7 | 1:11 |
| 7 | 7 | 1:10 |
| 8 | 8 | 1:10 |
---