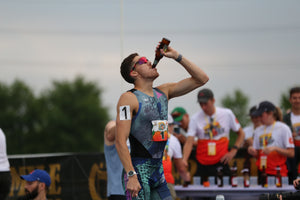 Corey Bellemore Just Misses Beer Mile World Record WITH ONE SHOE
The return of the Beer Mile World Classic to the United States after an 8-year hiatus was highly anticipated, and it did not disappoint. The deepest beer mile fields ever assembled gathered in Chicago for the 9th annual World Classic on July 1, 2023 to duke it out for world titles, records, and glory.
Corey Bellemore Dominates Men's World Championship with One Shoe
As expected, world record holder Corey Bellemore (Canada) dominated the men's championship race. Bellemore was primed and ready to lower his own 4:28 beer mile world record, but chaos in the first 100 meters of the race caused him to lose a shoe and a British runner to go down.
Despite running the entire race with one shoe, Bellemore missed his world record by just two seconds, finishing in 4:30. He set a blistering pace early, coming through lap one in 60 seconds (beer + lap) and through halfway (2 beers + 2 laps) in 2:06.
Chris Robertson (USA) and Nick Finch (AUS) rounded out the podium. Team USA took the team title with former American record holder Garrett Cullen (5th overall) and Team USA Nordic Skier Finn O'Connell (6th overall) sealing the deal as USA's second and third finishers behind Robertson. Team Great Britian took runner-up and Team Canada placed third.
View the full 2023 Beer Mile World Classic Race Recap
Watch the Men's Championship Race
Watch the Full 2023 Beer Mile World Classic Broadcast
---