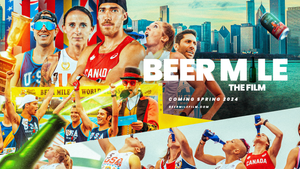 Trailer Released for the Beer Mile Documentary
The trailer and Kickstarter campaign for the first-ever film focused on the beer mile are here.   
This groundbreaking film is a journey into the heart of the 2023 Beer Mile World Classic, immersing you in the thrilling lives of the planet's fastest beer chuggers and runners.
In the unique universe of beer milers, eccentricity is the norm. Some might argue that these athletes have a screw or two loose – and for good reason. To not only dominate the running world but also master the art of downing four beers in just a matter of minutes requires a distinct and exceptional individual.
For the very first time, you have a front row seat to the captivating realm of the beer mile. This short but powerful documentary is packed with star-studded talent, including beer mile record holders, Olympic athletes, and full-blown celebrities.
The film promises an unprecedented look at the camaraderie, competition, and sheer audacity that define the beer mile community. This is not merely a sports documentary; it's a celebration of the relentless spirit that propels these extraordinary individuals to push their limits in a sport like no other and redefine what it means to be a world-class athlete.
WATCH THE TRAILER: Beer Mile Film Website
KICKSTARTER: Kickstarter Campaign
The Beer Mile Phenomenon
The Beer Mile, once considered an underground and niche event, has evolved into a sporting spectacle like no other. It combines the athleticism of a mile run with the unique challenge of consuming a beer before each lap. The result is a breathtaking display of speed, skill, and, of course, the ability to hold one's drink.
Once a year, the most elite beer milers across the world gather to compete in the world's premier running and drinking event: The Beer Mile World Classic. Celebrating its 9th year as the official beer mile world championship, and first time in the US since its inception in 2015, the 2023 World Classic broke records — both in competition and viewership. The races have been viewed more than 30 million times across platforms.
"Beer Mile: The Film" delves deep into this fascinating world, uncovering the eccentric characters that make up the vibrant beer mile community and the incredible stories that have propelled the Beer Mile from an underground phenomenon to a highly-competitive international sensation.
---