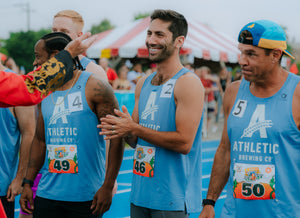 Celebrities Try Their Hand at a Beer Mile
The return of the Beer Mile World Classic to the United States after an 8-year hiatus was highly anticipated, and it did not disappoint. The deepest beer mile fields ever assembled gathered in Chicago for the 9th annual World Classic on July 1, 2023 to duke it out for world titles, records, and glory.
Celebrity NA Beer Mile Presented by Athletic Brewing
The 2023 Beer Mile World Classic featured a celebrity race for the first time. The Celebrity NA Beer Mile featured a star-studded celebrity field, many of whom were trying their hand at a beer mile for the first time. They drank Athletic Lite, Athletic Brewing's 25-calorie non-alcoholic light brew that contains less than 0.5% ABV.
Elite marathoner and podcast host Ken Rideout led wire-to-wire, cruising a 6:50, less than a week after winning the Gobi March in Mongolia, a 155-mile stage race across the Gobi Desert. US Rugby National Team member Carlin Isles took runner-up in 8:06.
There was a close battle for third on the final lap between Nev Schulman, Cynthia Frelund, and Francis Ellis. In a sprint finish down the home stretch, Ellis barely edged out Schulman to finish third in 9:28. Schulman finished in 9:29, Frelund in 9:36, and Darren Rovell closed out the race with a time of 11:37.
View the full 2023 Beer Mile World Classic Race Recap
Watch the Celebrity NA Beer Mile Race
Watch the Full 2023 Beer Mile World Classic Broadcast
---