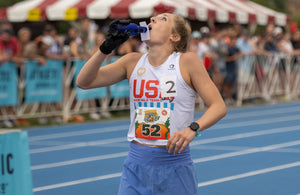 Elizabeth Laseter Wins 2023 Beer Mile World Classic Title
The return of the Beer Mile World Classic to the United States after an 8-year hiatus was highly anticipated, and it did not disappoint. The deepest beer mile fields ever assembled gathered in Chicago for the 9th annual World Classic on July 1, 2023 to duke it out for world titles, records, and glory.
Elizabeth Laseter Takes Home 2023 Beer Mile World Title
All eyes were on three Americans heading into this race: defending champion Melanie Pozdol, (now former) world record holder Allison Grace Morgan, and Elizabether Laseter who was first across the line in the 2022 World Classic but was disqualified on a chug zone technicality.
Laura Riches (England) set the pace on the first beer and lap, but Laseter took command of the race on the second beer and never looked back. She ran away from the field, setting a huge personal best of 6:03 and bettering Allison Grace Morgan's 6:16 world record going into the event.
Grace Morgan finished runner-up in a new masters (40+) world record of 6:19. Defending champion and Chicago local Melanie Pozdol rounded out the podium in third and Kassandra Marin (USA) took fourth, making it a clean sweep for Team USA of the top four spots and securing another team world title.
View the full 2023 Beer Mile World Classic Race Recap
Watch the Women's Championship Race
Watch the Full 2023 Beer Mile World Classic Broadcast
---