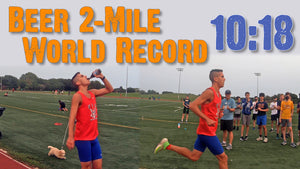 Beer 2-Mile World Record Shattered by Chris Robertson in 10:18
Chris Robertson (USA) shattered the once-thought-untouchable Beer 2-Mile World Record of 11:39 previously held by Jim Finlayson of Canada. Robertson completed the Beer 2-Mile in 10:18 to break the world record by well over a minute.
This was an encore for the people after his 2020 Beer Mile World Classic title and cemented his chuggernaut status. He will be attempting to break the Beer Mile World Record of 4:33 in a couple of weeks.
The Beer 2-Mile is the ultimate test of liver, stomach, and athletic ability for those who don't find the beer mile challenging enough. Instead of the 4 beers, 4 laps of the traditional beer mile, the beer 2-mile consists of 8 beers, 8 laps around a standard 400m track (plus the extra 18 meters to make it a full two miles). A chunder at any point during the race results in a penalty lap added on to the end. 
Robertson had a perfect even-split, going through the first beer mile in 5:09 and closing out beer mile number two in 5:09 as well. He held all 8 beers in until shortly after the finish. You can watch him unleash the foamy goodness at the end of the video below.
Watch the Beer 2-Mile World Record
Beer 2-Mile World Record Splits
Beer Mile #1 split - 5:09
Beer Mile #2 split - 5:09
| | | |
| --- | --- | --- |
| # | Beer Split | Lap Split |
| 1 | 5 | 1:12 |
| 2  | 6 | 1:11 |
| 3 | 6 | 1:10 |
| 4 | 8 | 1:11 |
| 5 | 6 | 1:10 |
| 6 | 7 | 1:11 |
| 7 | 7 | 1:10 |
| 8 | 8 | 1:10 |
View result on beermile.com
---