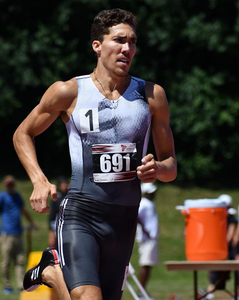 Corey Bellemore Sets 1500m Personal Best 3:39.36 in Gothenburg, Sweden
Beer Mile World Record Holder Corey Bellemore Sets 1500m PB (3:39.36) on 2019 European Track Circuit in Sweden.
Canadian beer mile world record holder Corey Bellemore had a stellar 2019 summer racing season on the track, with the beer and without. 
Bellemore started off his late summer circuit by placing 2nd overall in the 1500m at the 2019 Canadian Track & Field Championships on July 25, 2019. The race was a tactical one, and Bellemore positioned himself well for a sit-and-kick sprint to the finish, just 0.3 seconds out of first place. 
Bellemore followed that up by dominating the 2019 Beer Mile World Classic in Berlin on August 3, 2019 with a 4:36 beer mile on a clay/dirt track. He took the individual title, finishing 11 seconds ahead of American Chris Robertson. 
After the Beer Mile World Classic in Berlin, Bellemore traveled throughout Europe competing in 1500m and mile races. He set a new personal best in the 1500m in Gothenburg, Sweden with a time of 3:39.36 at the Gothenburg Athletics Grand Prix on August 16, 2019.
Other races Bellemore competed in while on his European track tour:
August 14, 2019 -- BAM Cork City Sports 1 mile (Ireland). Finishing time: 4:01.50
August 18, 2019 -- Meeting International Schifflange 1500m (Luxembourg). Finishing time: 3:44.42
---