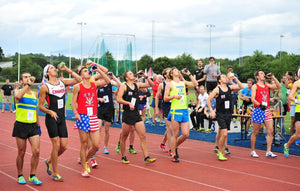 Beer Mile World Classic Will Be Held August 3, 2019 in Berlin
The Beer Mile World Classic has revealed the date and location for this year's beer mile world championships. The beer mile races will be held on August 3, 2019 in Berlin, Germany at the Dr. Hans Hess Stadion (Allianz Stadion).
Update on August 4, 2019 - Link to Results: Beer Mile World Classic 2019 Results and Race Videos
Read our race preview here: Beer Mile World Classic 2019 Preview
The Beer Mile World Classic is the annual showdown that brings out the best beer milers around the world to crown the king and queen of the beer mile. There is also a team competition to determine which country will go down in history as the superior beer-guzzling, track running alpha. The race is scored cross country style by counting the places of the best 3 runners from each country. The lowest point total wins.
The Beer Mile World Classic has consistently brought out the top beer mile talent internationally, including world record setting performances. This year will be no different, with the majority of the fastest beer milers in history expected to be in attendance. Past Beer Mile World Classic individual and team champions are shown below.
Part beer festival, part track meet, part awe-inspiring athletic spectacle.
Join us for a day of drinking, running and revelry as we witness top athletes from around the globe compete for world records and national titles in the most extreme track event known to man. 
Your entry ticket gets you a tasting flight of craft brews, optional entry into an all-comers beer mile, and a front row seat to the championship races.
Men's Beer Mile World Classic Champions
Individual Champions
| | | | |
| --- | --- | --- | --- |
|  Year | Winner | Country | Video Link |
| 2018 | Dale Clutterbuck | England | Link |
| 2017 | Chris Robertson | USA | Link |
| 2016 | Corey Bellemore | Canada | Link |
| 2015 | Lewis Kent | Canada | Link |

Team Champions
| | | |
| --- | --- | --- |
|  Year | Winning Country | Race Location |
| 2018 | USA | Vancouver, BC Canada |
| 2017 | USA | London, UK |
| 2016 | Canada | London, UK |
| 2015 | Canada | San Francisco, USA |

Women's Beer Mile World Classic Champions
Individual Champions
| | | |
| --- | --- | --- |
|  Year | Winner | Country |
| 2018 | Bryony Pearce | England |
| 2017 | Bryony Pearce | England |
| 2016 | Erin O'Mara | USA |
| 2015 | Caitlin Judd Batten | USA |

Team Champions
| | | |
| --- | --- | --- |
|  Year | Winning Country | Race Location |
| 2018 | England | Vancouver, BC Canada |
| 2017 | England | London, UK |
| 2016 | England | London, UK |
| 2015 | USA | San Francisco, USA |
---