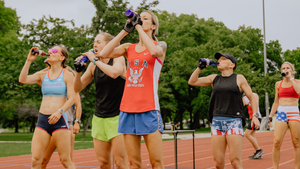 US Open Beer Mile 2022 Results and Race Videos
The inaugural US Beer Mile Championship in Chicago did not disappoint. World record holder, Allison Grace Morgan (6:16 personal best), took the women's crown against the deepest women's field ever assembled. American record holder, Chris Robertson (4:37 personal best), cruised to win the men's title.
The Beer Mile World Classic and Beer Mile Media joined forces to host the inaugural US Open Beer Mile event. The races determined the US National Team that will compete at the Beer Mile World Classic in Leuven Belgium in October. Racers were competing for over $5,000 in travel funding for the World Classic, and the right to claim the legitimate title of US Beer Mile Champion.
Results and Photos
View the full race recap, results, and photos: US Beer Mile Championship 2022 Results and Recap
Watch the US Open Beer Mile 2022 - a.k.a US Beer Mile Championship
Men's Race
Women's Race
---