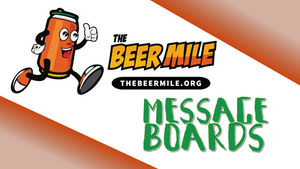 The Beer Mile Message Boards Are Live
Join the fun and banter with the beer mile community on our forums.
Beer Milers are witty, entertaining folk, so it's about time someone launched forums specifically for the beer mile community. Now you can get your beer mile training and tactics questions answered, share race results, and have a much better experience than dealing with the trolls of LetsRun.com.
Want to know what the best beer for the beer mile is? Want to ask a question to clarify the rules? Ever wondered how the best beer milers train? All of these topics, and many more, are ready for you to drop some knowledge on.  
Get started
If it's your first time using the forum, here are a couple helpful hints:
To reduce spam and bots, we require an account for posting on certain forums (some forums allow anonymous posting). Learn more about registering here.
Our forum uses Markdown syntax for formatting posts.We don't use WYSIWYG (What You See Is What You Get) editors because they can potentially lets users insert dangerous HTML code into the posts. Learn more about formatting posts with Markdown here. 
Read our terms of service and forum rules.
---