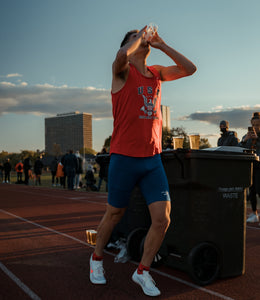 New Chunder Mile World Record (4:53) Set by Chris Robertson
Chris Robertson Betters Dale Clutterbuck's Previous Record by Four Seconds with 4:53 World Record
Chris Robertson lowered Dale Clutterbuck's chunder mile world record by four seconds with a final time of 4:53. Dale's previous record of 4:57 was set in 2017. 
Instead of consuming four 12-ounce beers as in the standard beer mile, the chunder mile requires four imperial pints (20 fluid ounces each) to be chugged out of pint cups. That's nearly double the volume of beer - 80 ounces in the chunder mile versus 48 ounces in the standard beer mile.
Also different from the beer mile is that participants are allowed to vomit during the chunder mile without having to do a penalty lap at the end. In Chris's world record run, he did not vomit.
By comparison, Chris's beer mile personal best of 4:37, which also happens to be the American record, is 16 seconds faster than this record-setting chunder mile.
Watch the chunder mile world record in action below: 
---