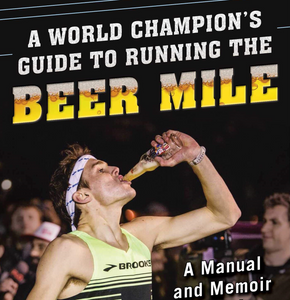 Canadian Beer Miler Lewis Kent Announces Beer Mile Book
Canadian beer miler Lewis Kent recently announced a new book that details his rise to beer mile stardom, including multiple beer mile world titles, beer mile world records, and appearances on ESPN, Buzzfeed, Ellen, and dozens of other major outlets.
The book—full title: A World Champion's Guide to Running the Beer Mile: A Manual and Memoir of Running, Chugging, and (Not) Throwing Up—is available for pre-order on Amazon now. It will officially launch on June 18, 2019 with both paperback and Kindle versions.
 Pre-order the book here 
Kent says this book has been a nearly three-year-long project that he's excited to see completed. He recently told Canadian Running Magazine: "Amy Appel, a freelance agent, reached out to my agent and asked if I would be interested in writing a book. I accepted, and six months of book proposal was followed by shopping it around to various publishing companies. In 2017, Sky House Publishing picked it up."

Kent says he has an entirely new appreciation for writers. "I have so much respect for people who write books. This is the single hardest thing I've done in my life. When I committed to it I thought I'd have a co-author, and then I realized I would be the sole writer. I felt in over my head."
Needless to say, we're confident Lewis Kent is the perfect guy to release the first beer mile book and enlighten the world on the sport of the beer mile. When the beer mile frenzy started in 2015, Kent was at the forefront.
Book Summary
The book is part personal experience and part beer mile how-to. Kent noted, "It's about 60 percent my story and 40 percent tips and tricks. It explains the basics of the beer mile and how to win a beer mile. There's also a history of the beer mile, which was really difficult to compile." 
Excerpt from Amazon: In June, 2015, Lewis Kent was just an ordinary twenty-one-year-old college kid who liked to run. By December, 2015, just six months later, he had appeared in ESPN, Buzzfeed, Ellen, and dozens of other major outlets. Videos of him running went viral, and he received daily calls from agents. So why all the attention? Simple: He ran the Beer Mile, and he ran it unbelievably fast.
About Lewis Kent
Lewis Kent grew up in Mississauga, Ontario where he found his passion for running. In 2012, Kent began school at the University of Western Ontario, where he competed in both cross country and track and field. With the legal drinking age in Canada being 19, Kent and his fellow beer milers had a two-year head start on the American competition.
Kent ran his first beer mile in April of 2014, finishing fourth in a local race in a time of 6:11. He set his first of three beer mile world records on August 7th, 2015 in a time of 4:55.78.He won the Beer Mile World Classic two weeks later on August 22nd, 2015, and shortly after signed the first ever professional beer mile contract with Brooks Running.
The deal sparked major media buzz, with ESPN, TMZ, BroBible, and other major media sites publishing the story. It led to Kent making an appearance on the Ellen DeGeneres show on November 30th. The next day, he ran at the FloTrack Beer Mile World Championships, winning in a world record time of 4:47.17. Kent currently lives and trains in Ontario, Canada.
---