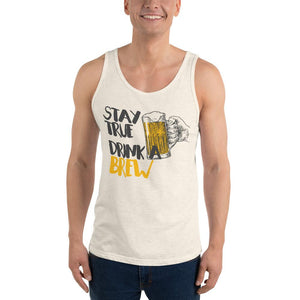 Best Drinking Tanks for Frat Bros and Beer Snobs Summer 2019
Hit the pool, pub, and gym in style with these savage drinking tanks.
If you and your boys slay beverages on the reg and you're proud of it, then you've come to the right place. When necking beers is your olympic sport of choice, you need the proper uniform for the occasion that will help you perform your best and show the other wankers out there that you mean business.
Nothing says #savagemode or #beastmode like skulling a line of pints with your biceps bulging out of a drinking tank. Lets those guns out bro. You are a force to be reckoned with. Bring peak performance to your next bender, beer mile, or beer olympics by having the proper attire, and let the people know you send it.
Beer Me Drinking Tank
Being blunt and candid is undervalued in today's society. When beer o'clock strikes, let the people know what you need. That good good. That liquid gold. The turn-up juice. The sauce. Piss water. Just Beer Me already.
Stay True, Drink a Brew Tank
We all know not to trust someone that doesn't drink beer. This drinking tank reminds those around you to chill the feck out. Stay True, Drink a Brew. We'll raise a beer stein to that.
May Contain Alcohol Tank
You're the life the party. You know the difference between varietals and vinos. You're a drinking enthusiast! The only help you need is someone to run the table with playing beer pong or flip cup. Beer is one of the oldest beverages produced by humans and you're merely respecting your ancestors by consuming the beverage of the masses. Or you add class to that glass (of wine). Go you!
'Merica Beer Drinking Tank
'Merica is beer, and beer is 'Merica. Show your red, white, and blue USA pride with the 'Merica Red, White, and Blue Beer Cans Drinking Tank Top. No better drinking tank to wear as you go full send on some beverages.
Time to Drink Beer Tank
Bad case of the Mondays? Are the Sunday scaries kicking in? Is it 5pm? It is not 5pm? Is it time for a night out with the boys? Or a night in with the amigos? No matter what the situation, this shirt is relevant and factual. 
Early & Often Beer Tank
Suns out, guns out bro. Let the homies know you are a force to be reckoned with when it comes to slaying beverages early and often. The #EarlyandOften movement is for real. Put your drinks up and drink in style.
Beer All Over Drinking Tank
This beer all over tank is truly one-of-a-kind. The print is so vivid and realistic that you will make heads turn and mouths water from every passerby. The beer print covers every square inch of the tank top.
American Flag Beer Pong Tank
Whether it's the fourth of July or beer o'clock, there's no better way to make 'Merica proud than the American Flag Beer Pong Tank. Salute to the red solo cup and beer pong, an American classic.
Run all the Miles, Drink all the Beer
Live on the edge and don't do anything half assed! Run all the miles and drink all the beer. We know you can handle both so why not go ahead and send it? Running is all about carbo loading anyway, right?
Beer Mile Drinking Tank
In the vast world of extreme sports, there exists a sub-culture at its heart best known as "digestive athletics." Pay tribute to the most famous, glorified, respected, and celebrated of all the events of this underworld: the Beer Mile.
Bachelor Party Drinking Team Tank
Go all out for the groom-to-be's bachelor party. Your squad will be rolling deep with matching outfits and the ladies will know your crew is ready to mingle. 
Warning Stag Party Tank
An essential piece of the wardrobe repertoire for the next stag do with your mates. The best opportunity to get drunk, assume drugs and do nasty stuff alongside your best friend before he gets married.
Team USA Beer Mile Tank
What's more American than beer and sports? Combined, these two make the lethal combination known as the beer mile. And guess what? Team USA men have won the beer mile world title for the past 2 years. Take that Canada! Take that England! Take that Zimbabwe! Make America proud and show your support for the men and women who represent the USA in all its glory.
I Crushed the Beer Mile Tank
If you've crushed the beer mile, be proud and gloat among all the those who are unworthy of your greatness. We also condone this being worn as a jersey during your next beer mile as you are crushing it. That's what we call doing it live. But don't let us catch any posers wearing this badge of honor and ruining the sacred beer mile name.
Chug Run Repeat Beer Mile Tanks
Bold, yet subtle. The Chug Run Repeat tank is only truly understood by fellow beer mile fanatics. At its core, the beer mile is very simple. Only three actions are needed: Chug, Run, Repeat. This tank makes the perfect uniform for the next time you are chugging, running, and repeating. 
Beer Shirts
If you are more of a shirt guy than a suns-out-guns-out guy, then there is exists a beer drinking shirt, raglan, or long sleeve for you. You can never go wrong with a beer shirt, especially when they are so comfortable you won't want to wear anything else. Your new favorite drinking shirt has arrived.
Have other top-notch drinking and party shirt recommendations? Leave a comment below to help out fellow beer snobs and frat stars.
---