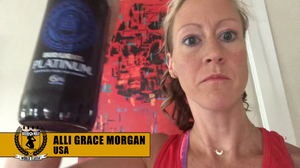 Allison Grace Morgan Sets New Women's Beer Mile World Record in 6:16
Allison Grace Morgan (USA) won the 2020 Beer Mile World Classic title in a women's beer mile world record time of 6:16.5. She successfully defended her 2019 world title and led the USA women's beer mile team to their 2nd straight world crown.
American Allison Grace Morgan is from Bend, Oregon and drank Bud Light Platinum (6%) as her beer of choice for the race. She bettered Liz Herndon's previous best of 6:17.8.
View our full race coverage here: 2020 Beer Mile World Classic
Women's Beer Mile World Classic 2020 Results and Race Video
Results
| | | | |
| --- | --- | --- | --- |
| Place | Athlete | Country | Time |
| 1 | Allison Grace Morgan | USA | 6:16.5 World Record, NR, BMWC Record |
| 2 | Elizabeth Laseter | USA | 6:42 PR |
| 3 | Shannessy Adams | Australia | 6:45    AUS Record |
| 4 | Laura Riches | England | 6:53  PR |
| 5 | Katie Anderson | Canada | 7:04  PR |
| 6 | Hanna Hugosson | Sweden | 7:06 Scandavian Record, NR |
| 7 | Marissa Markle | Canada | 7:16  PR |
| 8 | Kassandra Marin | USA | 7:49  PR |
| 9 | Lisa Renteria | USA | 8:11  PR Masters Winner |
| 10 | Kristyn Kadala | USA | 8:13 |
View the full 2020 Women's Beer Mile World Classic results here
Splits
Women's Race Video
Beer Mile World Classic 2020 Full Race Video
Click Here to Join the Discussion on the Beer Mile Message Boards
View beer mile world championship results
Click here to see an archive of beer mile world championship results and race videos
Watch more beer mile videos
---