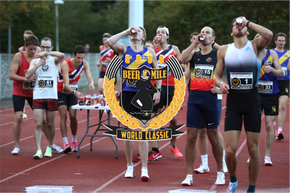 2023 Beer Mile World Championship Coming to Chicago on July 1
The world's premier drinking event, the Beer Mile World Classic, is holding the 9th annual edition in Chicago on July 1. This is the first time the world championship will be held in the US since the inaugural event took place in San Francisco in 2015. 
The event features a beer festival, food trucks, music, and big prize money for both the beer mile open heats and the championship race. Anyone who wants to try their hand at a beer mile is welcomed.
National Teams from the USA, Canada, Australia, England, Scotland, Sweden, Norway, Belgium, Ireland, Netherlands, France, and Germany are expected to compete for the men's and women's team championships: the coveted Kingston and Queens' Cups.
Register and Learn More
Details about the event, prize money, and qualification criteria for the championship race can be found at Beermile.com/worlds 
Registration here: 2023 Beer Mile World Classic registration
Past Beer Mile World Classic Results and Race Videos
Past results are housed on beermile.com, the official beer mile resource. Here are the results and race videos for the past couple of World Classics:
2022 World Classic in Leuven — Results and Videos
2021 World Classic in Manchester — Results and Videos
About the Beer Mile
The Beer Mile is equal parts gastric challenge and athletic endeavor, requiring competitors to drink a 355ml beer (5% minimum ABV) before every quarter mile of the race, totaling four beers over the one-mile course.
About the Beer Mile World Classic
The Beer Mile World Classic is the world's premier drinking race. Since 2015, the BMWC has served as the official beer mile world championship and crowned the men's and women's world individual and team champions. Notably, BMWC hosted several world records, including Canadian Corey Bellemore's current mark of 4:28.1 in 2021, and Allison Grace Morgan's 6:16.5 at the 2020 BMWC. Team world titles are also on the line as each country send their best beer milers to compete for the Kingston Cup (Men) and Queens Cup (Women).
---