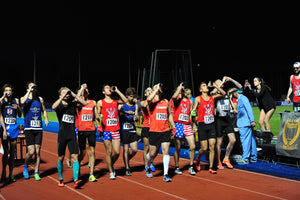 Beer Mile World Classic 2021 to Be Held in England on October 23
7th Annual Beer Mile World Classic will feature showdown between world record holder, Corey Bellemore, and defending champion, Chris Robertson.
July 6, 2021 (Manchester, England) 
The Beer Mile World Classic, the world's premier drinking race, will return to England on Saturday, October 23rd for its 7th Edition. This year's event will be hosted at Manchester's Leigh Sports Village Track and Field Stadium. Manchester is the hotspot for British Beer Miling, producing two-time Women's World Champion Bryony Pearce and multiple members of the National British Beer Mile Team.
The event is open to runners worldwide. National Teams from the USA, Canada, Australia, England, Scotland, Sweden, Norway, and Germany are expected to compete for the men's and women's team championships: the coveted Kingston and Queens' Cups.
Details of prize money, qualification criteria, and submission instructions are available updated at www.beermileworldclassic.com. 
About the Beer Mile:
The Beer Mile is equal parts gastric challenge and athletic endeavor, requiring competitors to drink a 355ml beer (5% minimum ABV) before every quarter mile of the race, totaling four beers over the one-mile course. 
About the Beer Mile World Classic:
The Beer Mile World Classic is the world's premier drinking race. Since 2015, the BMWC has crowned the men's and women's world individual and team champions. Notably, BMWC hosted two world records: including Canadian Corey Bellemore's current mark of 4:33.6 in 2016, and Alison Grace Morgan's 6:16.5 at the 2020 BMWC. Envisioned as a team race, the National Teams compete for the Kingston Cup (Men) and Queens Cup (Women).
BMWC event producer, Nick MacFalls stated, "It will be over two years since we last met. We can't wait to bring the world's best sporting community back together over running and beers. "  
The Athletes:
The 2021 Men's Race will be a showdown between the only athletes to run under 4:40. Chris Robertson (BMWC champ in 2017 and 2020) from the United States ran 4:37 to win last year's virtual format, added World Records in the Beer 2-Mile (10:18) and the Chunder Mile (4:53). Canadian Corey Bellemore (BMWC champ in 2016 and 2019), has been sport's standard-bearer for the last 5 years. He still holds the World Record he set in San Francisco in 2018. His current focus is qualifying for the Tokyo Olympics.  
The 2021 Women's race will feature American and World Record Holder Alison Grace Morgan. After a Chug Zone disaster in London in 2017, she's rebounded to win the 2019 and 2020 Championships in World Record Time. Manchester's own Laura Riches is the hometown favorite, and has been in the mix for a world championship in London and Berlin.
Contact: 
Nick MacFalls
nick@beermileworldclassic.com/ USA: 1-650.444.3700
Web/Social Media: 
Website: www.beermileworldclasic.com
Twitter (@ClassicBeerMile)  
Facebook (https://www.facebook.com/ClassicRunning)
Instagram: https://www.instagram.com/beermileworldclassic/?hl=en 
Hashtag: #Beermile2021
---