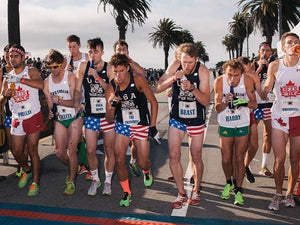 The 2020 Beer Mile World Classic Is Going Virtual - Anyone Can Compete Globally
The 2020 beer mile world championship will be a virtual competition with an $8,000 prize purse to crown the best individual beer milers and the top countries in the team competition. The 6th annual Beer Mile World Classic was originally slated to take place in either Stockholm or London, but amidst the COVID-19 pandemic and continued restrictions on events and large group gatherings in most countries, race organizers decided to bring the beer mile virtual.
Anyone in the world can participate and compete for an $8,000 prize purse by recording their beer mile race and submitting the video to race organizers through the Beer Mile World Classic website. Men and Women individual champions will be crowned along with team champions by country. For the team race, the top 3 racers for each country will count toward the country's score. 
Discuss on the Beer Mile Message Boards here
View past Beer Mile World Classic results here

Confirmed Elite Athletes
The race will feature 2019 defending champions Corey Bellemore of Canada (4:33 PB WR) and Allison Grace Morgan of the USA (6:24, #2 all time). Many former world champions and record holders are also confirmed to partake, such as:
Men
Corey Bellemore: (4:33.6), Canada, Current WR Holder, BMWC Champ 2016 & 2019
Chris Robertson (4:46), USA, US Record Holder, BMWC Champ in 2017, Silver 2019

Brandon Shirck (4:47), USA, Former WR Holder, BMWC Bronze in 2016, 2017, 2018

Josh Harris (4:51), Australia, Former WR Holder, 2nd Man Under 5 minutes

Corey Gallagher (4:54) Canada, Former WR Holder, Winner 2014 FloTrack Beer Mile

Phi Parrot-Migas (4:55), Canada, 5-Time BMWC Finalist, 2 Time Team Champion

Garrett Cullen (4:55), USA, 4x BMWC Finalist, 2nd in BMWC in 2017 & 2018, 3rd in 2019
Women
Alison Grace Morgan (6:24), USA, BMWC Champ 2019, #2 All-Time Performer

Andrea Fisher (6:26), USA, #5 All-Time Performer, 2015 Flotrack Beer Mile Runner-up

Chris Masters Kimbrough (6:28), USA, BMWC Runner-up 2015, Former WR Holder

Caitlin Batten (6:41), USA, BMWC Champion 2015, Flotrack Beer Mile Champ 2016

Lianne Girard (6:42) Canada, Canadian Record Holder, BMWC 2x BMWC Finalist

Polly Keen, (6:52), England, English Record Holder, BMWC Runner-up 2019
Will there be a new, rising star that comes out of the woodwork to upset these beer mile veterans? 
View the Beer Mile World Classic 2019 Results & Race Recap
Important Dates
JUNE 21— Earliest date to submit race entries

JUNE 27 — Latest date to submit race entries (NLT 9pm PST)

JULY 4 — Video footage of top 10 finishers will be broadcast online.
Stay tuned to the Beer Mile World Classic Race Day page for updates on important dates, filming, and broadcasting.  
Filming Rules 
Follow official beer mile rules

All races must be filmed on regulation, 400 meter athletics tracks.  

Please observe the social distancing guidelines of your local area when filming your race.

The filming must capture the entirety of the race (running and drinking), as well as the measuring of the leftover beer afterwards.

Videos must be submitted to nick@beermileworldclassic.com

See official race submission details on the

 

Beer Mile World Classic website 
May 27, 2020 (San Francisco, California) – 
Running alone on a track in Marin County, CA in 2014, James Nielsen's beer mile took the sporting world by storm as he became the first man to run a mile under 5 minutes while consuming 4 beers. Nielsen's historic effort was the seminal event leading to the creation of the Beer Mile World Classic (BMWC). San Francisco, London, Vancouver, and Berlin have all hosted the BMWC, and this year's edition of the event highlights a return to the sport's underground roots. 

The organizers of the BMWC are proud to announce a virtual championship that will air worldwide on July 4, 2020. The event is open to all runners worldwide. Top performers who are eligible to score for their nation will also compete for a share of $8000 in prize money. Details of prize money, qualification criteria, and submission instructions are available at www.beermileworldclassic.com.
About the Beer Mile
The Beer Mile is equal parts gastric challenge and athletic endeavor, requiring competitors to drink a 355ml beer (5% minimum ABV) before every quarter mile of the race, totaling four beers over the one-mile course.
About the Beer Mile World Classic
The Beer Mile World Classic is the world's premier drinking race. Since 2015, the BMWC has crowned the men's and women's world individual and team champions and hosted two world records: including Canadian Corey Bellemore's current mark of 4:33.6. The BMWC women's standard of 6:24 was set by Alison Grace Morgan in Berlin last July. National Teams from the USA, Canada, Australia, England, Scotland, Sweden, Norway, and Germany are expected to compete for the men's and women's team championships: the coveted Kingston and Queens' Cups.

BMWC event producer, Nick MacFalls stated, "Across the globe, there are elite athletes who have expressed interest, but their seasonal competitive schedules have restricted them from competing at the BMWC in past years. We welcome and challenge them to use this unique opportunity to train, race, and compete for prize money and bragging rights at the world's premier drinking race. "
The Athletes
2019 Champions Corey Bellemore of Canada and Alison Grace Morgan of the United States will return to defend individual titles, lead their respective national teams, and chase World Records.
Confirmed Elite Men
Corey Bellemore: (4:33.6), Canada, Current WR Holder, BMWC Champ 2016 & 2019
Chris Robertson (4:46), USA, US Record Holder, BMWC Champ in 2017, Silver 2019
Brandon Shirck (4:47), USA, Former WR Holder, BMWC Bronze in 2016, 2017, 2018
Josh Harris (4:51), Australia, Former WR Holder, 2nd Man Under 5 minutes
Corey Gallagher (4:54) Canada, Former WR Holder, Winner 2014 FloTrack Beer Mile
Phi Parrot-Migas (4:55), Canada, 5-Time BMWC Finalist, 2 Time Team Champion
Garrett Cullen (4:55), USA, 4x BMWC Finalist, 2nd in BMWC in 2017 & 2018, 3rd in 2019
Markus Liwing (5:01) Swedish Record Holder, 4 x BMWC Finalist
Emil Granqvist (5:06) Sweden, 2019 Beer Mile Rookie of the Year, 4th in BMWC 2019
Rasmus Thiesen (5:16) Norway, Norwegian Record Holder, 7th in BMWC 2019
Confirmed Elite Women
Alison Grace Morgan (6:24), USA, BMWC Champ 2019, #2 All-Time Performer
Andrea Fisher (6:26), USA, #5 All-Time Performer, 2015 Flotrack Beer Mile Runner-up
Chris Masters Kimbrough (6:28), USA, BMWC Runner-up 2015, Former WR Holder
Caitlin Batten (6:41), USA, BMWC Champion 2015, Flotrack Beer Mile Champ 2016
Lianne Girard (6:42) Canada, Canadian Record Holder, BMWC 2x BMWC Finalist
Polly Keen, (6:52), England, English Record Holder, BMWC Runner-up 2019
Katie Anderson (7:10), Canada, BMWC Bronze Medallist in 2019
Laura Riches (7:13), England, BMWC Runner-up in 2017
Contact
Nick MacFalls
nick@beermileworldclassic.com/ 650.444.3700
Web/Social Media
Website: www.beermileworldclasic.com
Twitter: @ClassicBeerMile
Facebook: https://www.facebook.com/beermileworldclassic
Instagram: https://www.instagram.com/beermileworldclassic 
Hashtag: #Beermile2020
---