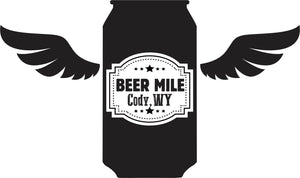 The Cody Beer Mile - July 17, 2020
4 Beers and 4 Quarter Miles…
MAKE UP THE INFAMOUS BEER MILE. 
Think you can hang?
This is the Cody, Wyoming version. Run as an individual or on a relay team of 4. This year's Cody Beer Mile will take place July 17th, 2020 starting at 6pm. All FINISHERS receive a finisher's T-shirt. 1st place Beer Mile & Beer Mile Relay winners receive a very swanky Cody Beer Mile trophy. This event is open to spectators and will feature chip timing, a beer garden, DJ music, and games. 

This event is based on the classic, and commonly accepted Beer Mile standards. Find those official beer rules here.
There will be a Bud Light Seltzer Mile for those who require a Gluten Free option, and a Coca-Cola Mile for those who choose to opt out of alcohol! Unfortunately, the Bud Light Seltzer Mile and Coca-Cola Mile results will not be official, but you can still have a damn good time!
Cody Beer Mile registration and more information
Link to the website for more information: Cody Beer Mile Race Website
Link to Facebook page: Cody Beer Mile Facebook Page
More about the Cody Beer Mile
When: Friday, July 17, 2020 at 6 PM
Where: 1501 Stampede Avenue — Park County Complex Lawn  — Cody, Wyoming
See more race information, including awards, event schedule, course, swag, and entertainment on the Cody Beer Mile Race Website.
This event is brought to you by Buffalo Bill Cody Races and benefits Western Bear Foundation.
---