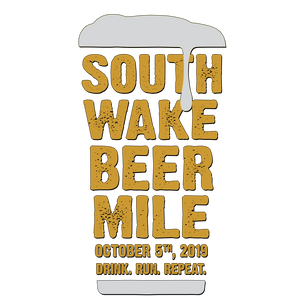 South Wake Beer Mile - October 5, 2019
UPDATE 10/18/2019 — Results and race recap can be found here: South Wake Beer Mile 2019 recap
The 2nd Annual South Wake Beer Mile will take place on October 5, 2019 in Holly Springs, North Carolina, sponsored by Pace Yourself Run Company. The event is perfect for all ages and talent levels, featuring both a beer mile and a chocolate milk mile (for those who want a challenge without alcohol). There are also 2- and 4-person relay teams for both the beer mile and the milk mile.
Last year's beer mile was competitive across the board, with a 5:37 winning time and 4 individuals breaking the 6:00 barrier. This year's race is slated to be even more competitive and deep. The course is USATF certified, and the beer mile even has a custom, low IBU, 5% beer brewed specifically for the event by Carolina Brewing Company. 
South Wake Beer Mile registration and more information
Link to the website for more information and to register: https://southwakebeermile.com/
Link to Facebook page: South Wake Beer Mile Facebook page
Link to last year's results: 2018 South Wake Beer Mile Results
More about the South Wake Beer Mile
When: Saturday, October 5, 2019 @ 5:00 PM
Where: 140 Thomas Mill Road, Holly Springs, NC 27540
See more race information, including awards, event schedule, course, swag, and entertainment on the South Wake Beer Mile website.
South Wake Beer Mile Sponsors
The race is put on by the independent, specialty running store Pace Yourself Run Company, which opens next month (August 2019). They just so happen to have a bar inside, hence the reason for the tap coming off the back of the shoe in their logo.
The beer is provided by Carolina Brewing Company.
---