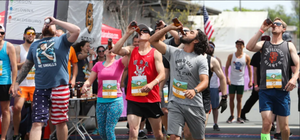 IPA 10K & Beer Mile - April 11, 2020
Use Code BEERMILE for 10% off your race registration and brewfest tickets.
The IPA 10K & Beer Mile is a full-weekend celebration of craft beer and running held in Sebastopol, California. On Saturday, the IPA 10K starts with a beer and cider toast before taking runners on a scenic 6.2 mile loop course north of The Barlow. The IPA 5K starts 15 minutes after the second wave of the IPA 10K. 
After finishing the race, each runner receives their finishers medal and mini-pint good for tastings at the Brewfest featuring the region's finest craft brews and ciders, bands and exhibitors. Just before noon the crowd gathers for the popular Beer Mile Invitational and Brewery Relay Challenge.
Many of the top beer milers in the world compete in this iconic Beer Mile event as they chug and run four laps around a block of The Barlow. Brewery teams of four then compete against each other for claim to the Growler Trophy in the highly entertaining Relay Challenge. 
IPA 10k & Beer Mile registration and more information
Link to the website for more information: IPA 10K race site
Link to register: IPA 10K & Beer Mile Registration
Link to Facebook page: IPA 10K Facebook page
Link to last year's results: 2019 IPA 10K & Beer Mile Results
More about the IPA 10K & Beer Mile Invitational
When: Saturday, April 11, 2020
Where: The Barlow in Sebastopol, CA
See more race information, including awards, event schedule, course, swag, and entertainment on the IPA 10K and Beer Mile race details website.
IPA 10K & Beer Mile Sponsors
Sponsored by Crooked Goat Brewing 
Sponsored by Golden State Cider
---