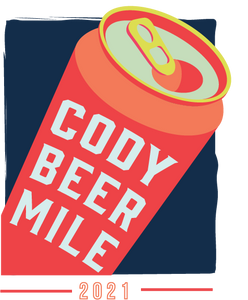 Cody Beer Mile 2021
Cody Beer Mile 2021 Registration and Race Information
When: July 16, 2021 at 5 PM
Where: 1501 Stampede Avenue — Park County Complex Lawn  — Cody, Wyoming
Register on the Cody Beer Mile wesbsite: Cody Beer Mile Race Website
Facebook page: Cody Beer Mile Facebook Page
4 Beers and 4 Quarter Miles…
MAKE UP THE INFAMOUS BEER MILE. 
Think you can hang?
This is the Cody, Wyoming version. Run as an individual or on a relay team of 4. This year's Cody Beer Mile will take place July 17th, 2020 starting at 6pm. All FINISHERS receive a finisher's T-shirt. 1st place Beer Mile & Beer Mile Relay winners receive a very swanky Cody Beer Mile trophy. This event is open to spectators and will feature chip timing, a beer garden, DJ music, and games. 

This event is based on the classic, and commonly accepted Beer Mile standards. Find those official beer rules here.
There will be a Bud Light Seltzer Mile for those who require a Gluten Free option, and a Coca-Cola Mile for those who choose to opt out of alcohol! Unfortunately, the Bud Light Seltzer Mile and Coca-Cola Mile results will not be official, but you can still have a damn good time!
---